Medusa Desktop Aquarium (Ex Filtration, Pump & LED's) – TRADE
Medusa Desktop Aquarium (Ex Filtration, Pump & LED's) – TRADE
Purchase 5 or more to pay only £295 per Medusa Desktop Tank
Whats included?
• Medusa Desktop Aquarium
Please Note: £310.00 Excludes Powerhead, Filtration, LED Lighting, flexi-pipe and stop valve.

Quick specifications:

Capacity: 60 Litres

Material: Cast acrylic perspex (Crafted in the UK)

Dimensions: 500mm (H) x 430mm (L) x 430mm (D)

Number of jellyfish: 10 jellyfish

Lighting: Over aquarium LED remote controlled

Filtration: Mechanical, biological
Medusa desktop aquarium
This is the most innovative home jellyfish aquarium to date. The striking minimalist design complements these simple yet elegant creatures with ease.
The medusa Desktop Aquarium lighting features a full colour LED remote controlled system to illuminate your jellies beautifully.
Hand crafted in the UK, each medusa desktop aquarium is designed with jellyfish in mind. The advanced laminar flow spray bar propels jellyfish gently passed the out-take that filters the water.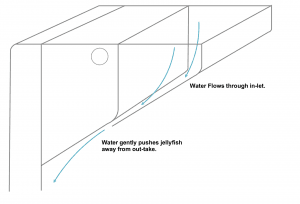 Filtration is hidden at the rear of the aquarium enclosed in a sump unit. To control the flow output there is an easy access flow restrictor at the top of the aquarium.
Information for Trade
Contact us if you would like to include a pump, filtration and lighting for your customers or purchase the Medusa Desktop Aquarium Inc. Parts here.
We can ship direct to your customers with white labelling. Or have us ship directly to your store for collection.
Whats included?
Additional information
| | |
| --- | --- |
| Volume | 60 Litres |
| Material | Clear cast acrylic |
| Dimensions | 500mm (H) x 430mm (L) x 430mm (D) |
| Number of jellyfish | 10 medium jellyfish |