Medusa Desktop Jellyfish Aquarium
Medusa Desktop Jellyfish Aquarium
Dimensions 500mm (H) x 430mm (L) x 430mm (D)
Capacity: 60 Litres, 15 Jellyfish maximum
Whats included?
Medusa Desktop Aquarium
LED colour changing lights & remote control
Powerful Eheim 600 pump
Biological & Mechanical Filtration
Installation & maintenance guide
Fast and Free Delivery in the UK!
Medusa Desktop Aquarium
This is the most innovative home jellyfish aquarium to date. The striking minimalist design complements these simple yet elegant creatures with ease.
The Medusa Desktop Aquarium lighting features a full colour LED remote controlled system to illuminate your jellies beautifully.
Hand built in the UK, each Medusa Desktop aquarium is designed with jellyfish in mind. The advanced laminar flow spray bar propels jellyfish gently passed the out-take that filters the water.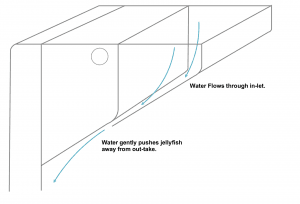 Filtration is hidden at the rear of the aquarium enclosed in a sump unit. Provided with the Medusa Desktop Aquarium is the filtration (Bioballs, floss foam mesh) and powerful yet silent Eheim 600 powerhead. To control the flow output there is an easy access flow restrictor at the top of the aquarium.
Specifications
Capacity – 60 Litres
Material – Acrylic
Dimensions – 500mm (H) x 430mm (L) x 430mm (D)
Jellyfish Capacity – Max 15 Medium Moon Jellyfish
Powerhead – Eheim 600
Lighting – LED RGB color changing light bar

Whats included with the Medusa Desktop Jellyfish Aquarium?
Medusa Desktop Aquarium
LED colour changing lights & remote control
Powerful Eheim 600 pump
Biological & Mechanical Filtration
Additional information
| | |
| --- | --- |
| Volume | 60 Litres |
| Material | Clear cast acrylic |
| Dimensions | 500mm (H) x 430mm (L) x 430mm (D) |
| Number of jellyfish | 15 medium jellyfish |
| Glass Aquarium Lid | Yes, No |
| Filtration | Mechanical, Biological |